Your website is accumulating a lot of traffic, but not generating desired leads. Do not scratch your hair. Instead, you need to pay more attention towards
conversion rate optimization or CRO
. But, how? In this beginner's guide to CRO, we will discuss about the best tips and best practices you can use to solve the issue of conversion rate and swell up your revenue.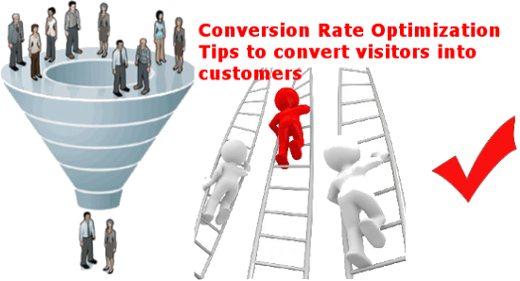 Latest Conversion Rate Optimization Tips for 2017
Target the right audience
It is important to consider whether your website, email marketing campaign, or
pay-per-click marketing
is targeting result-oriented leads. In layman's language, are you targeting audience who are seeking for your services or products and who wants to complete the call-to-action process? Sectioning an
email marketing campaign
or aligning the inappropriate keyword can badly affect the conversion rate.
A killer headline is a must
A headline infuses life. It magnetizes attention, increases understanding and generates interest. The headline should be the most critical step of a perfect landing page. To begin with, the headline should be catchy enough to pull the attention of readers. Secondly,
it should clearly inform about your services/products
. Last but not the least; it should be short as lengthy headline might kill the interest.
Create an unique UVP
UVP or Unique Value Proposition is vital for a good rate of conversion. This one states the benefit to your offer in clear language. It also explains your unique identity which your rivals don't have. Thus, making your UVP clear on your website can rapidly escalate those sluggish conversion rates.
Keep your goal clear and simple
Badly stuffed landing pages can easily distract visitors. Make it clear what you want your visitors to do or about the specific page(s). Trim the amount of media, links, copy, and images to only what is important. Also put the order of the content in a systematic way. Lastly, the CTA (Cal-to-Action) should be crystal clear so each and every customer can complete it easily.
Test in different ways to strengthen trust
People take their personal details very seriously. If you're asking customers to share their private information or contact details, they want to know it won't be misused. That's why you need to test in various ways so your customers can trust you without any doubts. For effective conversion rate optimization, you must test each change lots of time as this will help you know what works and what not.
Place conversion components above the fold
First-time users hardly scroll down on your website. They will only search desired items above the fold. You need to place the appropriate elements of conversion to get this specific set of visitors above the fold where they will lucidly see those items without going here and there.
Only ask for what you require
Here we are talking about web forms. When it comes to these forms, there is no pre-fixed number of fields in forms that should be needed. But there is one rule that always works; only ask for what your sales team or you actually want. Moreover, stay away from confidential or sensitive details. Most important, do not use direct marketing words like, "submit".
Use social proof
This one is like a winner. When potential patrons see what your services and products have done for other users, or see that several people are using your products. It will be easier for these users to try your products at least once. According to a latest survey, 93% of people will trust a suggestion from a colleague or friend. And 51% of people will think deeply over a suggestion from someone they even don't know.
So, what are you waiting for?
Incorporate these tips and let the conversion go up
, up, and up!