No doubt, the stories are latest digital marketing trend on social media platform, but now Google has also introduced Google web stories. Formerly known as Accelerated Mobile Pages or AMP Stories, Google Web stories are a web based version of story format. Regular social media stories disappear after 24 hours; they are full screen images apart from the feed. These stories can be viewed later as well if saved in Highlights feature available on Instagram. These stories remain visible for 24 hours.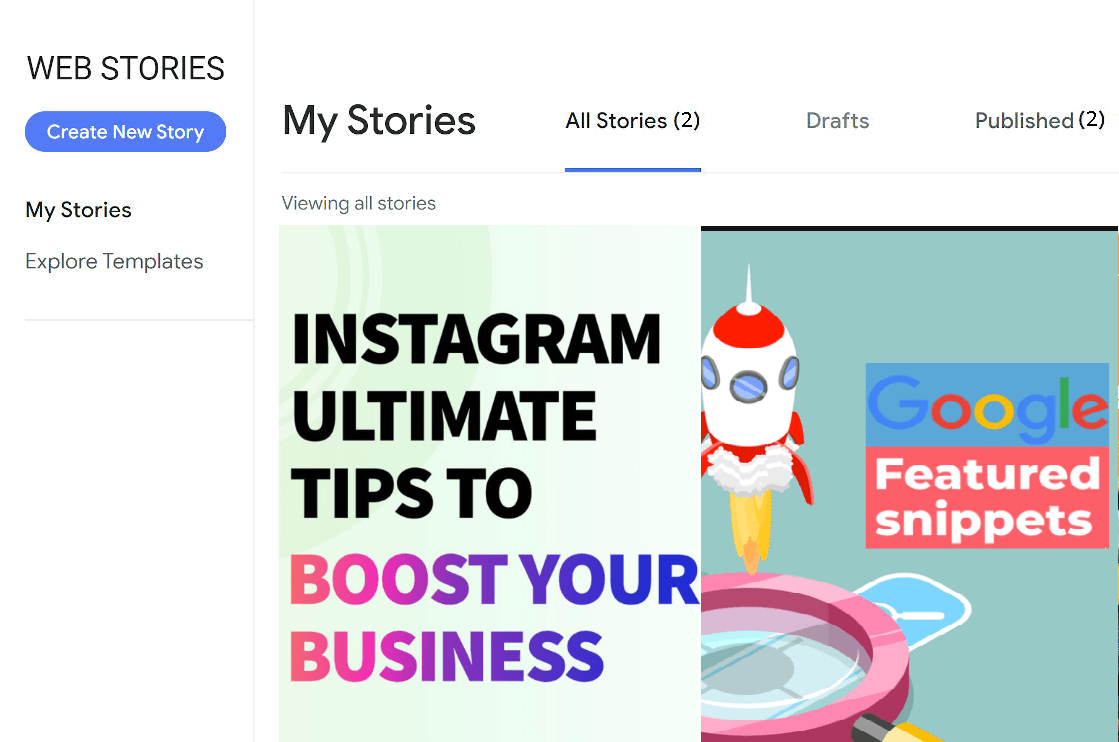 Google has also come up with next level web stories. Google web stories are owned and controlled by you (the creator) and the best part is that they don't have any expiration date. They will not be deleted automatically like other social media platforms. This means you have complete control over your stories.
Let's understand Google web stories, its benefits, how to use them and why we need to use them.
What are Google web stories?
Google web stories are web based interactive pieces of content in the form of images, videos, text, and audio used to share information with the audience. This helps in making ordinary news and blogs into an interactive and engaging experience for users. Users can easily skip any part or go back anytime to view story in which they are interested. Google Web Stories can be defined as a series of images, videos, audios or text that users can flip through and the user will get a brands message instantly. On viewing the Google Web Stories, users can decide if the story is worth viewing for them or not.
Web stories have three components – a poster, a cover page, and story pages. A poster is a kind of a thumbnail image which user sees as a first thing in your story. Your cover page is like the first page of your content and story pages are the stories where you start showing your assets. Users can see these stories in Google search, Google images, and Google Discover.
Benefits of Google Web Stories
Google web stories work little differently than other social media accounts and hence, offer a lot of benefits to the creator and the user.
The foremost benefit of using web stories is that they are flexible and you have complete control over it. Here you have complete ownership of creating and sharing stories and can easily embed them in your website.
Another important benefit of web stories is that there is no time limit like we have in other social media platforms. Google will not automatically delete your story which is good for branding. There is no time boundation of 24 hours; it depends on the creator for how long they want stories to be viewable.
Web stories are fully customizable. Creators have freedom to control each and every aspect of designing of stories with the help of user friendly tools. These tools enable you to select different layouts, fonts, and much more. You can link stories to your website and can easily monetize your web stories.
With Google web stories, you can reach to a larger set of audience as these stories are not limited to one platform. Which is not applicable in other social media platforms, where story can only reach to the people who follow your account. But these stories are available to anyone, anywhere and anytime. Your viewers are not required to follow you or to sign up any app or website to view your content. It is an open source which makes it easier to reach to the users. Wider reach ultimately adds value to SEO. Internet marketing services helps brand to reach globally which can be achieved by creating optimized web stories.
How to create Google Web Stories
Now we have understood about Google web stories and what are the benefits of the same. Next step is to understand how to create impressive and engaging web stories. You can use third party authoring tools, or CMS web stories plugins or if you want to build custom stories, then you can develop your own stories format through coding. Always test your story before publishing with the help of AMP test tool or AMP test validator.
Optimizing web stories by using recommended dimensions and size of images and videos in supported format only. Keeping your text under specified characters to avoid any issues later on. Adhere to all Google SEO standards. If you want professional service in creating and delivering Google Web Stories, you can also take help from the best SEO Company in Noida.