In this digitally driven world, technology changes with a fast pace. The strategy that is successful today might not be effective tomorrow and something that hasn't worked earlier might work in future. It's all about unpredictability. But in the dynamic space, one thing that hasn't loosened its charm yet is 'Email Marketing'.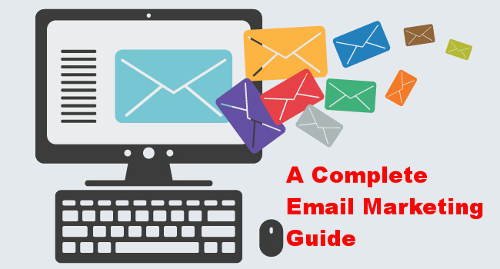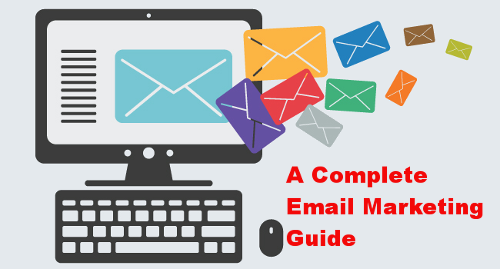 It's been consistently delivering the enormous results to businesses of all verticals. Regardless of what industry you are in, you can generate enormous sales from this. Email marketing can boost your sales to many folds, but make sure that you are executing your email marketing campaign in a right direction.
Benefits of Email Marketing for Small Businesses
Email marketing these days is important and there are hundreds of reasons why businesses should execute email marketing campaigns such as-
Benefits of Email Marketing: #1. Heavy email Penetration
As per the research, there are more than 3.2 billion email accounts today where 95% online consumers use email and 91% of them check their emails at least once a day. And in this scenario, there is simply no competition. More prominently, it's such an integral part of our life. There is not even a single person who can quit email.
Benefits of Email Marketing: #2. Unlimited Reach
Email marketing gives us the widest reach of all the channels available. The concept to reach out people is completely different between email and social media. In email marketing, when we send emails to individuals, it's very complex to ensure that it's reached the right destination or it's been read or not. But if you use the right technique, you can get all your emails read. We have 3 times more email accounts than Facebook and twitter accounts combined together.
Benefits of Email Marketing: #3. Higher Return of Investment (ROI)
Email marketing is the best way to produce higher ROI by spending extremely low amount. As per a recent study, email marketing has an ROI of 3800% and that means a lot. And this might be the reason why you receive so many emails these days. Got it? Hope you did.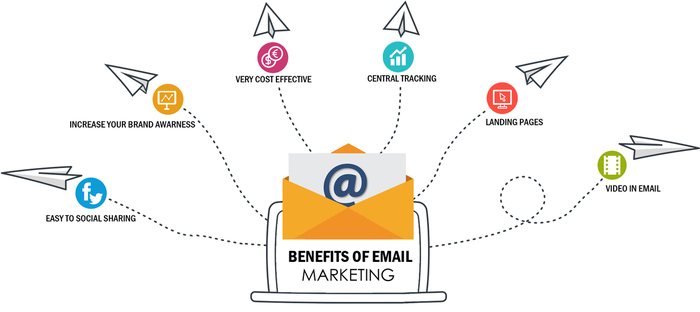 Benefits of Email Marketing: #4. User Engagement
When you have implemented right email marketing campaigns with a fair approach you can expect to have a better user engagement having a one-to-one conversation with your potential customers who have evidently expressed interest by joining your list. This may take you to the long way in terms of business and building relations with your customers.
Benefits of Email Marketing: #5. Integration
With email marketing, by being authentic and genuine, you can expect to have more repeat customers than any other communication platform. You just need to convince your subscribers with your offers, and they must find authenticity in it. Emails boast a rather transparent and clear conversation. So, as a business, you have a great opportunity to establish well integrated and stronger bond with your prospect customers.
Benefits of Email Marketing: #6. Promotional
With customers have turned more profit-centric these days, you can grab the opportunity by sending winning promotional emails to them. Keep a natural perception and you can have great results. As per the recent study carried out by Blue Kangaroo, 70% of the recipients have used discounts and coupons from their promotional emails, so you have higher chances to rip off a lot of advantages.
Benefits of Email Marketing: #7. Easy to reach mobile customers
These days, ever since the trend of smartphones has busted, each individual carrying mobile has his/her email ID installed in mobile. This gives you the higher opportunity to connect with your audience on the go. Even if they are not at work or not using their laptop or computers, you can get your emails checked and opened. Email marketing is also easy with other devices like tablet and phablets. As emails are free for customers, they won't mind opening it and reading it for multiple minutes.
Email Marketing Tips & Tricks 2018
When you want to execute email marketing to boost sales for your business, you shouldn't be alone. There is plentiful effective email marketing tools available to help you execute your email marketing campaigns effectively.
Email Marketing Tips & Tricks: #1. Send Transactional email
If you are operating an online shopping store or an e-commerce business, transactional email can help you tremendously to send order confirmations, delivery notifications, receipts, password reminders and other transaction-related to your customers.
Email Marketing Tips & Tricks: #2. Create Responsive email templates
A responsive email will literally change the way your emails are opened, viewed and acted on by customers. They ensure you get your emails seen, exactly the way you want them to be seen. You can use campaign monitor for better email marketing services.
Email Marketing Tips & Tricks: #3. Add Videos in Emails
Adding videos to your emails can sometimes be a hazardous task, so video email service can help you tremendously to play your heavier videos smoothly. You can use MailChimp for better video email experience.
Email Marketing Tips & Tricks: #4. Management your email user list properly
Huge Data and prognostic analytic can really make the difference, how you do email marketing & administer email lists to better segment and target customers for successful email marketing campaigns. This advanced tool can help you figure out what's working and what's not working. Check BlueHornet for solutions.
Email Marketing Best Practices
Email Marketing Best Practices: #1. Simplifying the subject line of your email
The biggest challenge for every email marketer is to get its emails opened by the users. If you want more subscribers to open and read your emails, use two alternate subject lines. Divide it into subject line A and B. There are abundant emails marketing applications that may have this function to split the subject line automatically. You also need to track it through your product sales, site or by using Google analytics and identify, which subject line is generating more sales. Track the effectiveness and change your subject lines accordingly.
Email Marketing Best Practices: #2. Send Emails More Frequently
Email marketing is undoubtedly a powerful way to generate more sales on demand, so you need to schedule frequent email marketing campaigns. Create your campaigns, associating with holidays, special occasions, events, and festivals. Whenever you launch a campaign, just track the read-rates of your starting emails and re-sent them to subscribers who haven't read your emails after 24 hours. This will give an opportunity to your subscribers who were out on vacation or could not use emails for other reasons.

Email Marketing Best Practices: #3. Segment Your Mails Properly
If you want to boost more sales for your products, it's very important to segment your emails as per subscribers' interest, activity and changes in recent behavior. You can also create a sub-list or just tag your main database on which your subscribers have recently opened your emails. Also, identify the subscribers who haven't opened your emails and send them an email with the re-engagement campaign.
Email Marketing Best Practices: #4. Employ Email Retargeting
PPC & Display retargeting are the hottest topics in the online marketing world. They can aid you tremendously to customize your ad campaigns to web visitors who've visited at the specific pages of your website. It's an under-used, yet very successful way of engaging your interested subscribers and boosts your sales in a remarkable way.
Email Marketing Strategies
Here is a bunch of effective email marketing strategies to email really busy people & stand out in their inbox.
Effective Email Marketing Strategy: #1. Research your Target Audience thoroughly
Instead of making your own perception or sending emails to any random individual, it's better to research about them first, what they like most, their organization, their interest area and activities and what they love to do outside of their work.
Effective Email Marketing Strategy: #2. Relevancy & Accuracy
If your recipients are not relevant, you might miss the chance to entertain them. So, reconsider them before you actually send them mail. It's your job to articulate them your service and its importance.
Effective Email Marketing Strategy: #3. Find out and build a connection
When you try to make a connection with someone, it's ultimately a sign that you care about them. Instead of sending mail to a guy who is a total stranger, send mail to someone who at least knows your name. Might be he might not consider your service, but for the sake of connection, he will open the mail. And if you indeed have got something interesting, it may also turn into a sale.
Effective Email Marketing Strategy: #4. Make your impression
Once you have had a bit of personal connection with recipients, behave like a good guy and make them like you. Leave an everlasting impression on them so that they could give you some attention. Speaking of consumer skills and expressing sympathy is another efficient way to be more likable over email.
Effective Email Marketing Strategy: #5. Be gentle, kind and appropriate
Your conversation skills mean a lot while connecting with prospect recipients. Make sure that you are using right tone, gentle and appropriate wordings while communicating over emails to your prospect clients.
Effective Email Marketing Strategy: #6. Don't mislead the conversation
While writing emails, don't fool your subscribers by adding fake subject lines or false commitments. By doing this, you will be losing a big amount of prospective clientele. So don't do this. Be genuine and be realistic.
With this quick email marketing guide, you can now execute even better, technically correct and ROI driven email marketing campaign to engage your valuable consumers.