Do you think that carrying your wallets every time to pay for things on the go is a boring idea? If yes,then you might expect yourself to be treated by your wish now. Yes, you heard it right; Google has finally realized your needs and now is working on its digital wallet.
If this comes out, you won't even have to take out your smartphone to pay for the things. Everything will be done with so ease by just showing your face- don't you feel like a star now???
Yup, you should…
Payments will be all hands free since your facial recognition will be used to carry out any transaction.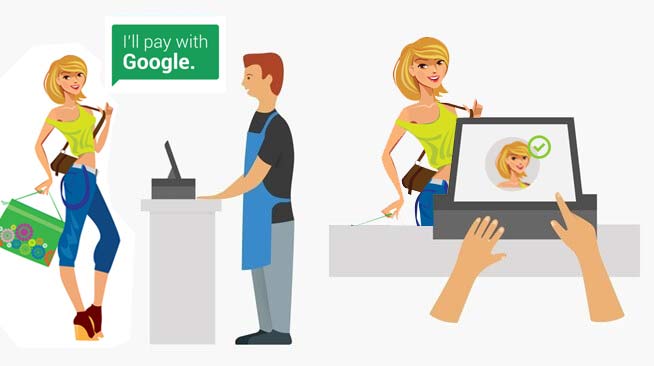 Putting more light on this update, the product manager of Google, Pali Bhat said: ""Imagine if you could rush through a drive-thru without reaching for your wallet, or pick up a hot dog at the ballpark without fumbling to pass coins or your credit card to the cashier. This prompted us to build a pilot app called Hands Free that we're now in the early stages of testing."
As the product is still under the trial, there have been only fewer number of food outlets of Silicon Valley including- McDonald and Papa John's.
Restaurants would use the Bluetooth technology and Wi-Fi to detect whether the customer is having the digital wallet. And when the customer will have to pay, they will simply tell the cashier that, "I will pay with Google".
Then the cashier, on the customer's request will ask for his initials and will use the picture to add a hand free profile which appears on their terminal to get the confirmation of authentic identity.
Besides, Google is also experimenting with the use of cameras in the store so that the customer could directly make the payment without having approved by the cashier.
Mr. Bhat added: ""In select stores, we're also in the early stages of experimenting with visual identification so that you can breeze through checkout even faster. This process uses an in-store camera to automatically confirm your identity based on your Hands Free profile picture. All images captured by the Hands Free camera are deleted immediately."
The system is currently under the trial and being tested by the certain group of users, but soon it will be accessible across the world.