Everyone is on a smart phone now a days. People surf, explore, and even make purchases online on their phones. They use their mobile for performing each and every task online, wether its booking a cab, paying bills, booking tickets, or anything else. It is not possible to make purchases on a website on phone, as desktop view is meant for desktop not for mobile. Therefore, mobile apps are the best options as they offer customers an ease in shopping and communicating with the brand.
Every business owner wants to increase its brand awareness, sales and revenue and mobile application is a great tool which offers all these advantages to a business owner. Today, when mobile phone is everything and is an important part of everyone's life, it has become equally important for businesses to have a mobile app through a reliable mobile application development company.
Let's look at why Mobile Apps are important for your business-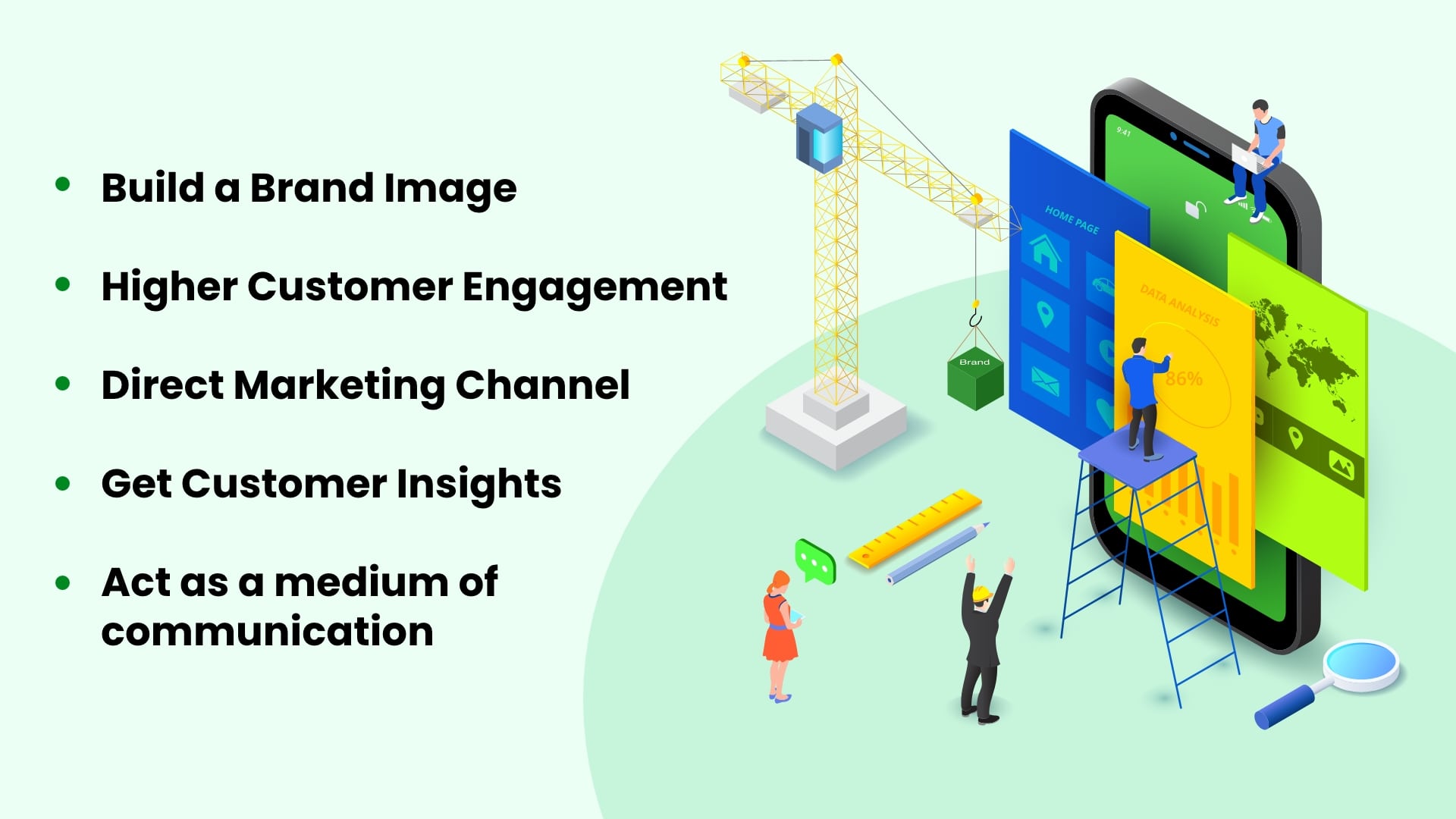 Build a Brand Image
A stronger brand is important to provide quality services to customers and to enhance the overall customer experience by providing the best services and products to them. Maintaining brand presence in the market is important so that customers can recognize your brand through your logo, color scheme, design, images etc and this can be achieved by having a mobile app for your business. Every time a customer explores apps, they notice your app which increases brand awareness and build a brand image.
Higher Customer Engagement
Using mobile app provide you to improve customer engagement by providing them quick response to their queries and quick services. Reaching to a business is easy while using app as these apps have instant chat support system to resolve customer queries in real time. Mobile apps act as helpdesk for customers. A dedicated mobile app helps businesses to connect with customers fast and easy, which in turn boosts customer satisfaction. Having a live chat system in your app will increase customer engagement and improves customer loyalty.
Read also: Mobile Musts for Your Online Business
Direct Marketing Channel
The most important advantage of having a mobile app is that it creates a direct and personalized marketing channel with your customers. This is beneficial for both – customers and businesses. Businesses can access user information by collecting data from user sessions which helps in improving marketing campaigns. Using a mobile app provide direct approach in delivering content to the customers. Enabling push notifications in your app catches customer attention by offering them various discounts and offers. On the basis of their last searches, push notifications also show different results accordingly which customers can make purchases.
Get Customer Insights
Tracking and getting information on user behavior, their search pattern, user feedback and user experience is important aspect of marketing. It helps in improving marketing strategies and marketing campaigns to get better results. With mobile apps, all information related to customers and their feedback can be compiled at one place on regular basis. Based on the customers response and feedbacks, various assessments can be done. Mobile apps act as a reliable tool in analyzing and collecting user behaviors and trends. This information can be easily accessed by providing a survey form or an initial form while sign up in the app.
Act as a medium of communication
The mobile app is the best medium of passing information to the customers. It is a single channel used for advertising by providing notifications regarding upcoming sale, discounts, offers, subscriptions, loyalty programmes and other relevant information to the customers. You can inform the customers about anything on the app to the customers, it can be any delays in deliveries, any combo offers running in any specific area, any delays due to bad weather, any technical issues occurring while placing an order or any important news that has to be delivered to the customers on time. Because no one will open website again and again to check for any such information.