Introduction
Social media marketing is essential to successful brand building in today's digital age. One of the most engaging, popular and upcoming techniques in social media marketing trends is live streaming.
From major events like the Super Bowl to everyday moments, live streaming allows content creators and brands to connect with their audience in real-time — creating an immersive and interactive experience.
If you own or work for a business and want to explore this digital marketing angle, keep reading!
We will cover the meaning as well as a few benefits of live streaming as a part of your social media strategy and provide tips on implementing it effectively.
What is Social Media Live Streaming?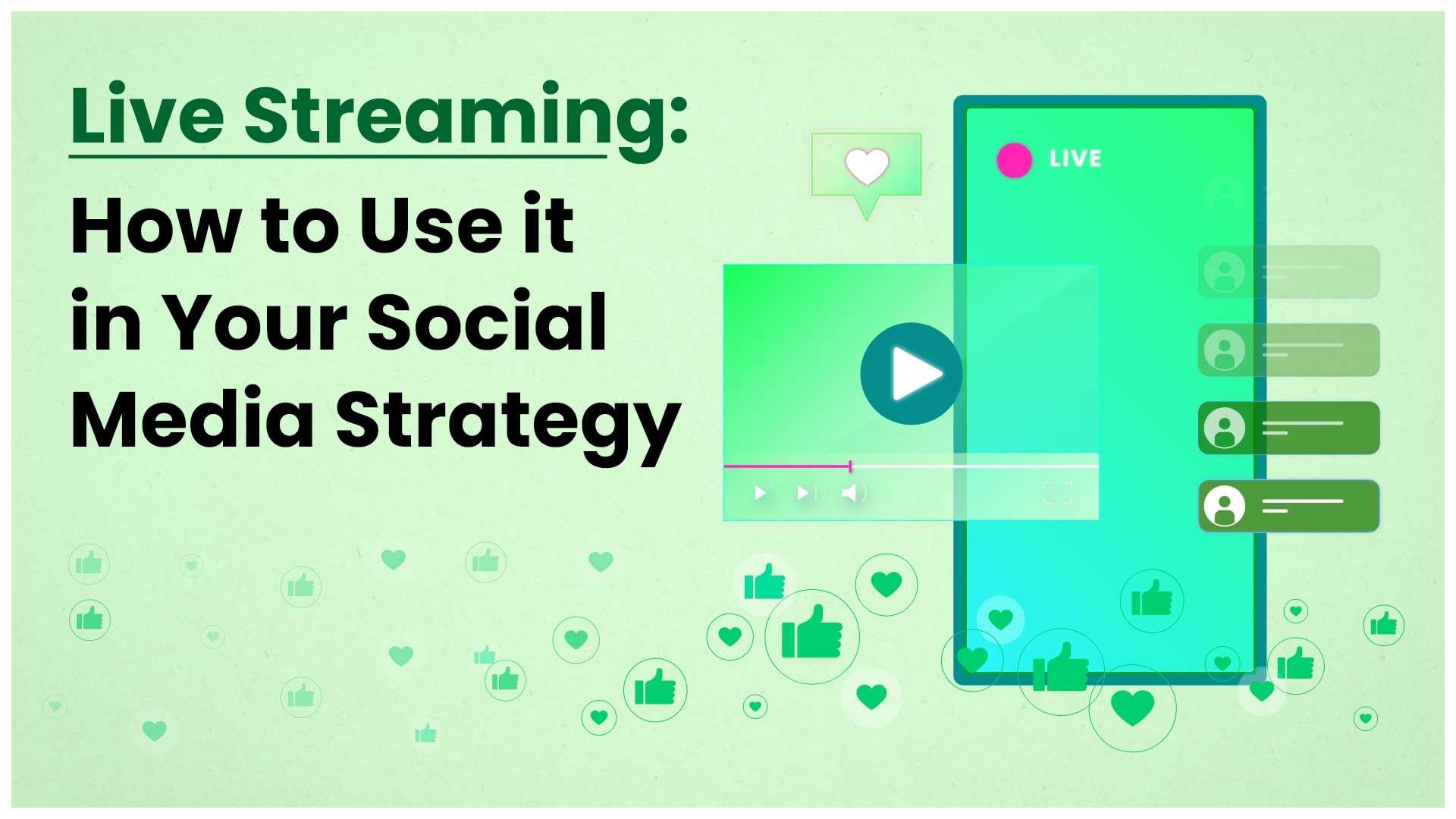 Social media live streaming refers to real-time videos shared on social media platforms instead of pre-recorded videos. It allows content creators and businesses to engage with their audience through features like live chats, polls and question prompts.
Live streaming can connect your company with its digital customers, generate followers, showcase products and services and entertain and educate the viewers.
Upsides of Live Streaming as a Brand or Business
Live streaming offers exciting benefits for brands and businesses. Let's dive into why you should incorporate it into your social media strategy:
Connect with viewers
Live streaming lets you engage with your audience in real time, creating a deeper connection. Showcase your products, give them a behind-the-scenes peek, and interact with them live.
Pro tip: Try hosting interactive Q&A sessions or fun polls to make it even more engaging.
Easy and cost-effective
Unlike traditional video production, live streaming is easy and cost-effective. You don't need expensive equipment or editing software. A smartphone or webcam, decent lighting, a tripod and a social media account are sufficient to start live streaming. As live streaming eliminates the need for elaborate video production, it is accessible to businesses of all sizes.
Increased reach
Break free from geographical boundaries! Live streaming allows your content to reach a global audience with just an internet connection. Fun fact: What's more, social media platforms love live content and prioritize it, boosting your visibility to your followers.
Live streaming allows potential customers to see your products or services in action, building trust and confidence in your brand. The real-time nature of live events enhances the authenticity and authority of the presented information.
Plus, by answering their questions live, you establish yourself as a subject matter expert, adding credibility to the brand.
Humanize your company
People connect with people – not just brands! Livestreaming allows you to showcase the people behind your brand, humanizing your company. It will enable customers to connect emotionally and develop a stronger bond with the brand.
Quick Tip: Feature employees, founders or customers in your live streams to create a more personal connection.
Identifies loyal fans
Live streaming attracts viewers who have a solid connection to your brand. They may be loyal customers, individuals who have interacted with the brand previously or those referred by others. Live streaming can build brand advocacy and encourage viewers to purchase or refer others.
Increases visibility
Most social media platforms prioritise live content, increasing followers' feeds' visibility. Additionally, pre-registered viewers can spread the word about your live event, further expanding its reach.
Marketing tip: Promote your brand's upcoming live stream across social media platforms and encourage your followers to share the news with their networks. Consider partnering with influencers or relevant brands to amplify the activity's reach further.
How Can a Business Create a Live Streaming Strategy Efficiently?
To effectively incorporate live streaming into your business's social media strategy, it's essential to have a plan in place. Here are some steps to help you create a successful live-streaming strategy:
Define your goals
Determine what you want to achieve with your live streams. Whether it's increasing brand awareness, driving sales, educating the audience or building customer loyalty — having clear goals will guide your content and engagement strategies.
Choose the right platform
Different social media platforms offer live streaming features, such as Facebook Live, Instagram Live, YouTube Live and Twitter. Research your company's target audience to identify which platforms they are most active on and choose the ones that align with its goals and target demographics.
Plan your content
Outline a content calendar for the upcoming live streams. Consider topics that resonate with your audience, such as
● Product demonstrations
● Tutorials, interviews
● Industry insights or
● Behind-the-scenes glimpses
Social media experts:
ensure the content you plan is valuable, engaging and aligns with the brand identity.
Prepare & promote live stream
Before going live, ensure the recording device is connected to a stable internet connection, placed between good lighting and delivers clear audio. Create promotional posts and videos to generate excitement and inform your brand's followers about the upcoming live stream. As a social media executive, you can also schedule reminders and consider collaborating with influencers or partners to expand reach.
Interact with the audience
Engagement is crucial during live streams. Encourage viewers to ask questions, provide feedback and participate in polls or interactive elements. This interaction enhances the live experience.
Analyze and optimize
After each live stream, review the analytics provided by the respective social media platform. Look at viewer count, engagement levels, comments and shares. Use these insights to optimize future streams and make data-driven decisions.
Tips for Successful Live Streaming on Social Media
To maximize the impact of any brand's live streams, consider the following tips.
Promote in advance
Build anticipation by promoting the upcoming live stream well in advance. Utilize social media posts, email newsletters and your website to create buzz and ensure the audience knows when and where to tune in.
Test the equipment
Before going live, test your shooting gear, including the camera, microphone and internet connection. Ensure everything is working correctly to avoid technical issues during the live stream.
Prepare a script
While spontaneity is part of the appeal of live streaming, having a rough outline of key points or topics to cover can help you stay focused and deliver a cohesive message.
Engage with viewers
Regularly check and respond to viewers' comments, questions and feedback. Make them feel heard and appreciated, and incorporate their input into your live stream when possible.
Encourage sharing
Push the viewers to share your business' live stream with friends and followers. Provide incentives like exclusive discounts or giveaways for those who share such content — expanding your brand's social media reach organically.
Repurpose the live stream
After it ends, repurpose the content by editing it into shorter clips or highlights that can be shared on your personal as well as professional social media handles and website. This step lets you continue generating engagement and value from the live stream even after it's over.
Conclusion
Live streaming has become a powerful tool for almost all kinds of brands and businesses to engage with their audience on social media. By incorporating live streams into your brand's social media strategy, you can create authentic connections, showcase the company's products or services, and establish your brand as a thought leader in its niche industry.
With careful planning, preparation and a focus on audience engagement, live streaming can elevate any company's social media presence and drive tangible results for the business.
If you want to embrace the live-streaming trend and start connecting with your audience in real-time today, what are you waiting for? Get in touch with IS Global Web's SEO and social media experts today!
We will also help you with a free analysis of your brand's social media presence and highlight areas of improvisation.