In the fast-paced world of social media, using hashtags has proven to be a game-changer! Statistics clearly show their power — posts with relevant hashtags get 12.6% more engagement. In fact, hashtags can boost a brand's online engagement by almost 50% and individual account engagement by 100%.
Understanding the Hashtag Universe
Instagram hashtags are like labels for various content buckets. Hashtags or # help organise posts using keywords, making it easier for people to find things they're interested in. Hashtags do more than just sort content online.
They're crucial for most virtual businesses in these three areas:
1. Boosting Engagement
Strategically used hashtags help posts join extensive discussions and trends, making them more visible and engaging without overwhelming posts with irrelevant tags.
2. Building Brand Awareness
Using the correct tags helps the audience find your brand's content easily — tags like skincare or beauty serve as virtual doorways, leading interested users directly to your brand's content. Additionally, branded tags simplify content accessibility for followers.
3. Adding Context to Posts
Hashtags simplify understanding, especially for image-heavy posts. For events, official tags help connect attendees and expand the event's story online.
When it comes to hashtag strategies, brands are leveraging hashtags for diverse purposes:
1. Marketing Their Brand
Brands use relevant hashtags to market their products, curating user-generated content and sharing behind-the-scenes glimpses to present a transparent image.
2. Announcing New Products
Hashtags are vital in building anticipation and engagement around new product launches. Brands use specific hashtags to capture the essence of the offering and communicate special launch offers or pre-orders.
3. Showcasing Product Features
Highlighting specific product features or benefits through hashtags enables users to find content related to those features.
4. Supporting Social Movements
Aligning with social causes, brands use relevant hashtags to exhibit support and connect with users passionate about these causes.
5. Announcing and Promoting Events
Unique and memorable hashtags are created to promote events, generating curiosity and excitement through teaser content and comprehensive event details.
To maximise your content strategy, consider the following tactics for discovering relevant hashtags for your business:
1. Use Hashtag Suggestion Tools
Leverage tools like Later's Instagram Hashtag Suggestions to discover hashtags based on your post content or industry relevance.
2. Explore the Instagram Explore Page
Seek inspiration from top-performing posts on the Instagram Explore page that relate to your brand or content.
3. Assess Instagram Hashtag Volume
Opt for hashtags with post volumes between 10K and 200 K, striking a balance between visibility and avoiding drowning out your post.
4: Watch Your Rivals
Observe the hashtags your competitors employ. This offers insight into their effective strategies and may serve as inspiration for your hashtag tactics.
Here's a quick list of hashtag suggestion tools you can make the most of to up your brand's digital presence:
● Later
● Hashtagify
● Keyword Tool
● Social Sprout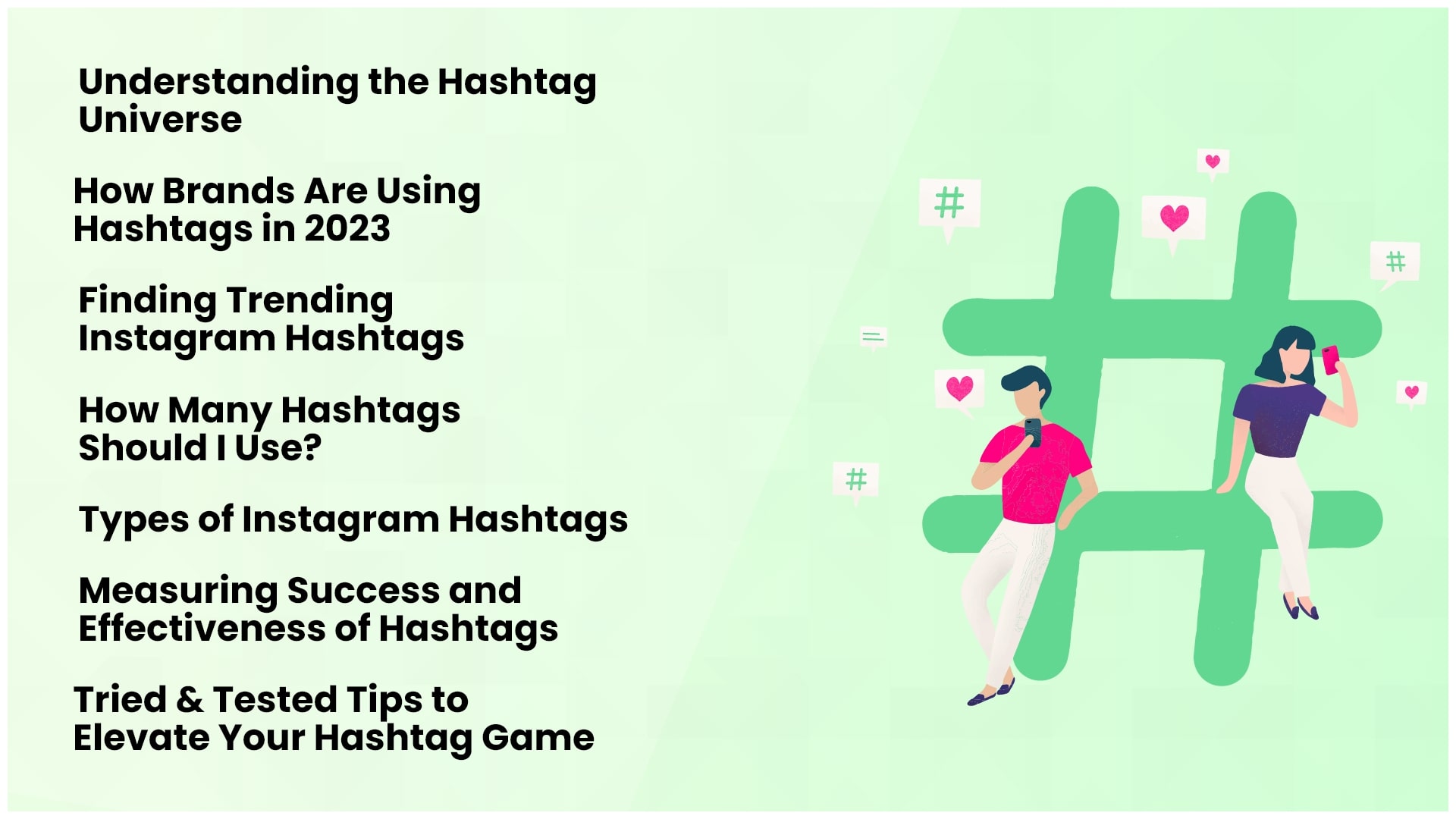 Instagram allows up to 30 hashtags per post, but an ideal range lies between 5 to 15, balancing visibility and avoiding overwhelming captions. Statistics reveal that using at least 11 hashtags leads to a 79% higher engagement rate. Factors to consider include relevance, audience and the overarching content strategy.
Instagram's Creators account suggests using only 3 to 5 hashtags per post. The high limit of 30 hashtags may seem generous, but focusing on relevance and meaningful hashtags trumps quantity.
Instagram hashtags span various categories, reflecting diverse interests and conversations within the platform.
Categories include:
Lifestyle and Inspiration
Travel and Adventure
Food and Cooking
Fitness and Wellness
Fashion and Style
Location-based hashtags
Branded hashtags
Industry hashtags
Community-focused hashtags
Descriptive hashtags, etc.
These categories encompass a wide range of topics and interests, reflecting the diverse conversations and niches within the Instagram platform. For example, within the Food and Cooking category, you could have subcategories such as #foodphotography, #dessertrecipes, #veganfood, #healthyrecipes, etc.
Analysing hashtag success on Instagram involves a few key steps:
1. Analytics Tools: Use Instagram or third-party analytics tools to track metrics such as reach, impressions, engagement and the overall impact of your hashtags.
2. Hashtag-Specific Analytics: Tools like FeedHive provide comprehensive hashtag analytics, offering insights into usage, reach and engagement for each hashtag.
3. Monitoring and Optimisation: Regularly monitor the performance of your hashtags and optimise your strategy based on the data gathered.
Here are a few tools that will provide marketers with a window into the ever-evolving world of social media, offering a comprehensive range of metrics:
● Tools: Instagram Insights, FeedHive, Sprout Social, Hootsuite Analytics, Brand24
● Metrics: Reach, impressions, engagement rate, click-through rate, website traffic from hashtags, conversions from hashtags
Tried & Tested Tips to Elevate Your Hashtag Game
● Use a mix of popular and niche hashtags. Popular hashtags will help your content reach a wider audience, while niche hashtags will help you target more specific interests.
● Use relevant hashtags. Ensure that the hashtags you use are directly related to the content of your post.
● Use branded hashtags. Branded hashtags are a great way to build brand awareness and create a community around your brand.
● Use a consistent set of hashtags. This will help your audience associate your brand with specific hashtags.
● Track and analyse your hashtag performance. This will help you understand which hashtags work best for you and adjust your strategy as needed.
Additional tips:
● Time your hashtags. Consider posting during peak times for engagement on Instagram.
● Use seasonal and event-based hashtags.
● Encourage engagement with your hashtags. Run contests, polls or calls to action.
● Utilise Instagram Story stickers.
● Optimise hashtags in your bio and captions.
Partner with IS Global to Optimise Your Hashtag Strategy
In conclusion, leveraging hashtags effectively on Instagram is pivotal for boosting brand visibility, engagement and community building. Craft a balanced approach when selecting hashtags, considering popular, niche and branded tags. Additionally, continually track,
Analyse and evolve your strategy based on performance metrics to optimise your hashtag game.
Empower your brand's online influence! Connect with IS Global TODAY to supercharge your business's online presence. To help you achieve new heights, we specialize in social media advertising, social media marketing, and the generation of organic content on Facebook, Instagram, and LinkedIn.
Read more on Complete Guide – Instagram Marketing Trends for Businesses