Voice search is the new technology where you can search whatever you want just by speaking. Google allows you to speak and show required results. Voice search is huge now and it's getting bigger day by day. The main reasons behind voice search growing so quickly is time saving; it is easy to speak than type as voice is faster than typing. Voice search is perfect for mobile users as there is no scope of making typing errors and it's handy too. For example, while driving, you forgot the way to your destination, now you cannot type in between and search, you can just do voice search and reach your destination. Life is easy with voice search. Voice search is not only restricted to providing answers, you can play music, perform necessary calculations, can ask certain facts and so on.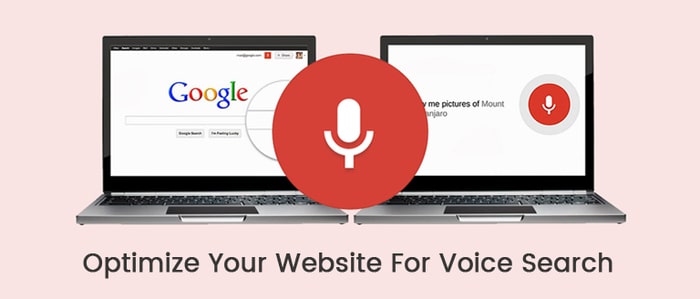 No doubt, just saying a phrase or question is easy than typing it. Voice search is future and to meet the future, we need to make to make sure that our website is optimized for voice search.
The Voice search optimization agency
can help you in optimizing your website better. Here are some tips Optimize Your Website for Voice Search-
Optimize Your Content
Content needs to be optimized for bringing traffic through voice search. Use long tail keywords in your content so that it should be usable for voice searchers. Make your content easy to read, easy to understand and easily scannable. You can have content in heading, sub headings, paragraphs, bullet points etc. to make it more understandable. Provide all relevant and useful information to the users. Include FAQS (Frequently Asked Questions) as well on your pages, it will make easier for Google to extract relevant content from your site and display in search results.
Make your website Mobile Friendly
Making your website mobile friendly is the most important tip for making your website ready for voice search. Everyone uses mobile for surfing internet. All searches are done on mobile, now a days. Therefore, it is essential to make the site responsive for mobile users and to provide a good mobile experience to your users. Some quick tips to make your site mobile friendly includes simple web design, make information easier to find, use large font sizes, include metas and allow users to switch to desktop mode anytime.
Update Information on Social Media and Google My Business
There is no other best medium for promoting a business other than social media. Today, everything is digital and so should be your website. Updating Google my business profile will bring all local customers to your website as mostly voice searches are done for finding local business near user's location. Updating information like operating hours, complete address, and contact number, etc is must. It will help users to find you. At the same time, consumers do check social media accounts of any particular business before making any purchase. Therefore, it is always a good tip to keep your online information up to date.
Add Schema Metadata
> Schema markup is a code that can be added to the HTML of the website. This helps search engines to understand your content and make your content visible. Metadata available on the website is easily extractable by search engines, to provide more information to the users. Apart from understanding your website and increases its rankings, it give all relevant information to users. You can even have a control on how your brand appears in search results.
Work on Keywords
We are optimizing our website for voice search which means consumer queries will be like – Any good bakery shop? How to make a dalgona coffee at home? Do you know any IT technician? What are the weekend destinations under 250 kms? Which means you need to focus on question keywords rather than including yummy dalgona coffee or weekend destinations in your content? Make sure you include the words kike how, when, where, what in your content. Do not forget to include filler words as well in your keywords like the, on the, I, for, to, from, etc. This also means that there is an increase in the length of keywords to meet requirements of consumers. You need to make a proper keyword research plan in order to optimize your website for voice research.