Earlier whenever we used to plan a family trip, it involves a lot of efforts and time. There were no internet and no knowledge about the bookings, etc. Our parents used to ask others about the travel destination regarding weather, places to stay, places to visit etc. But, now with the digitization, everything is just a click away! Digital marketing is an essential phase for every business be it travel industry or any other industry.
But, it is equally important for travel agencies and travel businesses to gain competitive edge to reach to the next level. They have to use digital marketing to the best to attract new customers and expand business. Creating and maintaining digital presence is one of the essential parts of digital marketing strategy.
Let's explore how Digital Marketing can help travel business to grow-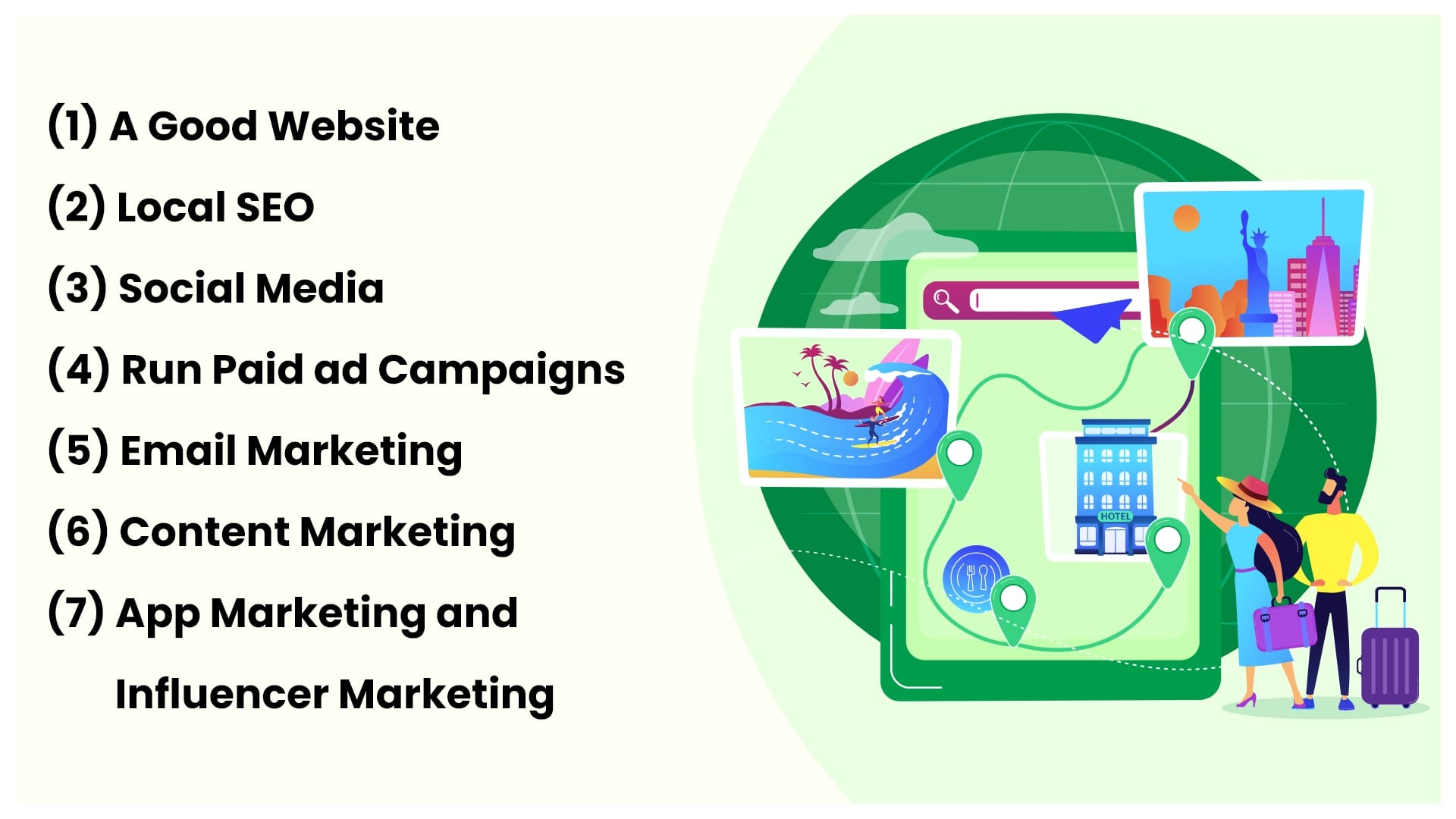 A Good Website
As everything is now just a click away, everything needs to be online. No one will come to office, enquire and make bookings. Having a good website is first most and very essential part of digital marketing strategy. Go for a good eye catching and attractive website design full of information, to retain customers to your website. Take services of SEO company for professional services. Use high quality images, videos, maps, guides, and infographics. Include as much as possible information about a travel destination. This can be in tform of blogs, guides, infographics, highlights or attractions. Give contact us forms to customers to contact you. Make your website user friendly which would make customers to stay at your site for a long time. And, most importantly, it should be mobile friendly as maximum percentage of travelers make bookings by visiting a travel website using a mobile device.
Local SEO
Local SEO is one of the best digital marketing strategy to increase website traffic and bring leads. Targeting local searches and users of your area is important to appear first on their searches whenever searches are made for your location. Create an attractive business profile on Google and provide all relevant business related to your travel business like your business logo, business name, contact information, etc. Verify your Google my business profile to get high rankings. Make sure you have same information on your website and other marketing channels. Upload client's reviews, images and links to your travel blogs, etc. Register your business on various business directories, quora, and other relevant websites to attract more visitors. You can take affordable seo packages in India as well for complete SEO services of your travel business.
Social Media
Creating presence on social media in today's digital era is one of the most important digital marketing strategy, especially for travel business where visuals works best. Create your accounts on social media platforms – Facebook, Instagram, and Pinterest and post new travel deals, inspiring posts, videos, reels, images everyday. Make your profile engaging and attractive. Create a social media calendar and post accordingly. Calendar can have travel quotes, travel packages, travel blog, area guides for a specific destination, tips, dos and donts, tourist attractions of a specific destination, and so on. Social media marketing is the strategy to promote your business and attract new customers if used efficiently. Instagram is making people choose to travel through the reels. You can create and post good quality videos to attract customers. You can hire the services of a professional social media expert for the same. They can run paid facebook and instagram campaigns to bring more leads.
Run Paid ad Campaigns
Once you are done with a good website, Google profile and social media platforms, its time to run paid ad campaigns like PPC to get more leads and conversions. PPC stands for pay per click marketing where you need to pay only when someone will click your ad. PPC is the most efficient, measurable and cost effective type of marketing used by digital marketers. PPC is all about using relevant adwords to get on top of Google's search results. It is undoubtedly, the best way to get in front of your prospective customers instantly. Major benefits of PPC campaigns include immediate results, control on your budget, control your campaign, drive leads, and you can track, measure and further optimize your campaign.
Email Marketing
Sending monthly or weekly newsletter to your customers through email marketing expands your database. The travel industry is all about having repeated customers for which you can send them newsletters to remind them about your services. Use newsletter as a promotional tool by adding some value to it. It may contain discount vouchers, holiday sales, abandoned cart emails, deal of the week, any gift hamper or any offer which encourages the customers to subscribe. This will help in increasing traffic. Many customers just delete such promotional emails even without reading. Make your email full of helpful information which makes customers engaged and build relations with them. Use email marketing as a means of communicating with your potential customers.
To learn more about the Email Marketing Guide – Driving Conversions and Sales, read our blog:
https://www.isglobalweb.com/email-marketing/email-marketing-guide/
Content Marketing
Content is king! Create relevant and engaging content for your website visitors which will make them go for vacation. If you want to inspire your customers to travel and make bookings, content is the right option. As people trust organic content more. Win the game of inspiration to booking through effective content. Post content in the form of blogs, guides, itinerary, travel tips, personal travel experiences, and travel brochures. People love personal stories, authentic travel experiences, and this makes them to pack their bags. Try to teleport readers to the travel destination by creating awesome content. Everyone wants to know every bit about destination before planning to travel. Here you can win their hearts by providing all information in an organized manner at one place.
App Marketing and Influencer Marketing
Every service provider be it in travel industry or any other industry has their own app. It is important to have user friendly app for your travel business. As most of the people use mobile device for searches, in such scenario, app becomes handy to make searches and bookings. An app helps in proving hassle free services to the customers 24*7. Reaching customers through content creators is the best approach in today's digital world. These influencers are verified with thousands and millions of followers on social media platform. They create authentic content for your brand and people follow their recommendations and get influenced by them. Approach top influencers for new customers and more exposure.