How often do we find a crispy new website packed with many errors? We all know the answer. People who are
a part of the online world
know very well that starting up with a new e-venture is a hard nut to crack. Young entrepreneurs generally face challenges that at times break their dreams. But what are those challenges that hamper their business?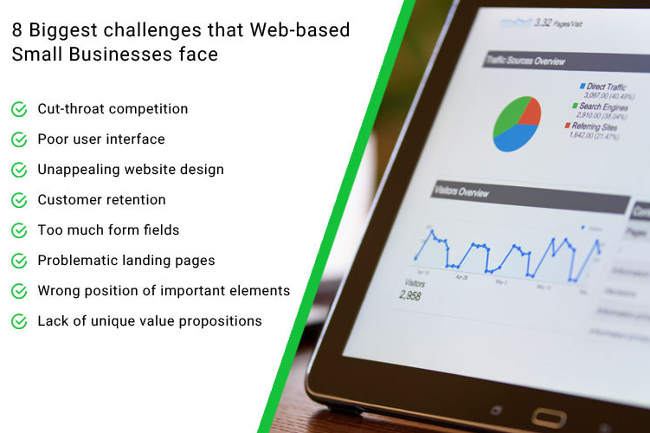 Here are some
common challenges with solutions faced by budding entrepreneurs
.
Cut-throat competition
Baby businesses are like toddlers in a field stuffed with geriatric players. These experts already have the upper hand. They have been working for a longer duration; have more knowledge and expertise in running a business. Plus, they are well aware of the market, which new ones are not.
Poor user interface
Yes, this one matters a lot. When it comes to new mobile apps startup websites, user interface undoubtedly plays a pivotal role. Websites packed with outstanding features can easily attract visitors from far and wide. New sites often lack here. They are not skilled enough to create the right balance between authentic usability and technical adeptness for end-users. The solution is to
outsource your web development services to professional hands
and endow your customers with a striking and user-friendly interface.
Unappealing website design
Newborn websites can't grow up healthily without an attractive website design. If the first impression is magnetizing, your visitors will surely come to explore your site and possibly take action. Remember, newbies should not go for a very low-cost website pattern. If you are truly serious about conversions,
always handover your dream business layout in professional hands only
.
Customer retention
Most of the budding businesses forget about this point. It is just not about operating your fresh business for the patrons, but it is also about the withholding of these customers so that the fixed set of people comes to your place frequently.
Too much form fields
Let's unfurl some internal issues now. Ok, so finally you've built a fantastic site with perfection in all aspects. Your site has started receiving good traffic. But, why these visitors are not turning into customers? Check the subscription box. Yes, if it is blocked with too many form fields, it will slow down the conversion rate for sure. Thus,
make the form easier and use fewer fields
.
Problematic landing pages
The
landing page plays a big role in the conversion funnel
. The main aim of a landing page is to encourage visitors to buy your products. All new businesses should keep the landing pages simple. Include value proposition, a catchy tagline, a beautiful logo, an attention-grabbing video etc to visually converse what you offer.
Wrong position of important elements
Another hindrance faced by fresh founders is they are not fully aware of the right elements and the place where the elements should be placed. Always keep in mind that you should place important items above the fold. The CTA should be action-driven and concise. Lastly, if you want to offer extra alternatives like learn more, ensure that your main CTA should be the attention-grabber.
Lack of unique value propositions
As compared to similar products available in the online market, if
your service or product
does not have one or more UVP, they are bound to fail, without a doubt. Thus, before you start building your product catalog, find out UVP not less than four. This will help your new business stand out amid the crowd and escalate your sales graph.