The education industry is undergoing many changes in the new digital era. Technology is taking a major part in every industry, including the education industry too. With digital marketing strategies, educators can now teach and communicate with students as and when required. Students can now learn everything online, there is no need to go and attend classes. Many universities are offering online courses that are certified as well. Education institutes have come up with e learning by providing how to videos and notes through apps and e learning platforms.
Technology plays a very important role especially in today's time where Covid left no option for survival. Technology has proved to be a bonus for every industry including education industry. This pandemic brings digitization globally; it has reshaped the whole educational sector and will continue to evolve in future too. Education institutes shift quickly to digital platform which make them survive. Now students can search and enroll in any online course just in few clicks. Therefore, it is important for educational institutions to opt for right digital marketing strategies through professional seo consultants for their success.
Let's discuss the top 6 digital marketing strategies for educational institutes which SEO consultants and experts follow.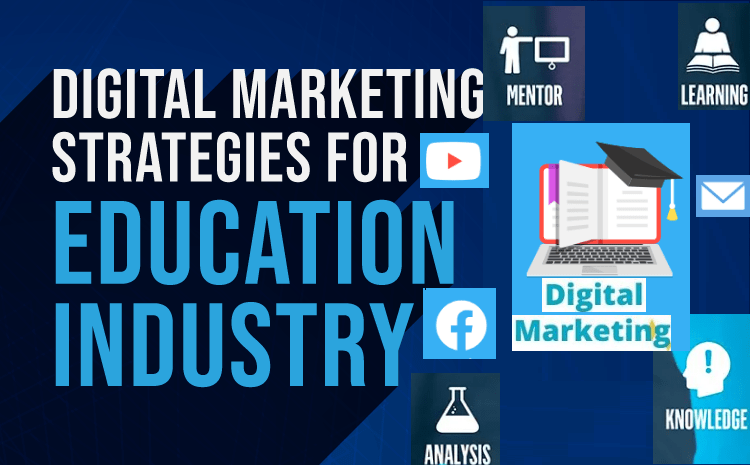 Social Media Presence
In today's time everyone is tech savvy and using social media more often for every need. People of all ages spend most of the time on social media channels be it Facebook, Instagram, Twitter or Linkedin. Everyone is highly active on social media channels. Therefore, it is very important step and one of the best digital marketing strategies of creating social media presence. This will help in building a community of students who want to study online. Make sure you post all relevant content and build a solid follower base.
Run Paid Ads
Only creating social media accounts and posting content there will not work alone. You need to promote your account for wider reach through paid ads. One of the best ways to reach your target audience worldwide is using paid ads. In paid ads you can set budget, demographics, age, interest, and other factors relevant to your services or online courses. Run Search Ads on Google where you can target students searching for specific online course.
Launch E learning app
Developing an e learning app is the most vital requirement of any educational institution where students opting for online courses can see all relevant information at one place. Application will be beneficial to both students and management. Students can watch lectures, videos, study material, notes, exam dates, can communicate with educators, etc and management can track student score, student progress and other details. Ensure that app is mobile friendly and is updated every time with new details.
Create You tube Channel
Video content is gaining a lot of popularity in social media. No one wants to read a long article or blog for any specific query. Everyone wants to watch a video. Video content strategy is the best and effective way of promoting your institute. Therefore, it is important to invest in creating engaging videos covering different aspects of your institute, courses offered, education system, educators, and amenities for students, etc. Create interesting videos, which will make students to further visit your website or app and take courses.
Create Mobile Friendly Website
Having a SEO friendly and mobile friendly website for education institute is another important digital marketing strategy. Website should look great and navigate easily on mobile devices. Some factors to consider for a website include page speed, loading time, relevant content, use of relevant keywords, FAQs, contact form, detailed information about courses offered along with fee structure, images and short videos. Make sure that website should be simple and easy to access.
Live Webinars
Going live or conducting webinars with expert professors for students is one of the best promotional and effective strategies of digital marketing for educational institutes. Prepare a list of topics which are important for every student opting for any course. You can conduct webinars in different fields as well. This will help students to interact with experts and understand the institute better. Live sessions increase interaction and engagement among students. Promote webinars on all social media platforms and on your website. Run paid ads for it for more registrations.